What Size Trolling Motor for Kayak: Your Complete Guide
When you're ready to take your kayaking experience up a notch, you might start thinking about adding a trolling motor. However, it's not just any trolling motor you need – it's the right size for your kayak that will make all the difference. So, let's dive in and explore the perfect fit for your aquatic adventures!
Understanding Trolling Motors for Kayaks
Before we get into specifics, let's clarify what a trolling motor is. A trolling motor is a self-contained unit that includes an electric motor, propeller, and controls and is affixed to an angler's boat, in this case, a kayak. Its purpose is not only to help you move through the water with less effort but also to give you better control of your craft.
Choosing the Right Size
Picking the correct size trolling motor for your kayak is crucial. If you choose one that's too powerful, you might find it difficult to control. On the flip side, a motor that's not powerful enough won't do you much good in strong currents or windy conditions.
Thrust Matters
The most important factor to consider is 'thrust,' which is the measure of how much push the motor can give. It's typically measured in pounds (lbs). As a rule of thumb, you need at least 2 lbs of thrust for every 100 lbs of weight. This weight includes both the kayak, your gear, and yourself. Consequently, most kayakers do well with a trolling motor between 20-30 lbs of thrust.
Battery Power
Also, think about battery power. Trolling motors run on electricity, so you'll need a battery that can last through your trips. Most kayakers prefer a 12-volt deep-cycle marine battery since it's a balance between weight and performance.
Mounting the Motor
Now, where will you put the motor? Most trolling motors are mounted at either the bow or stern of the kayak. However, for kayaks, a transom (stern) mount is often easier and more practical.
Read Also: 6 Reasons To Go Yachting
Speed Settings
Most trolling motors come with various speed settings. More settings give you greater control over your speed and allow you to manage battery life more effectively. This feature is especially handy when you're trying to stay in a particular spot or navigate through tight spots.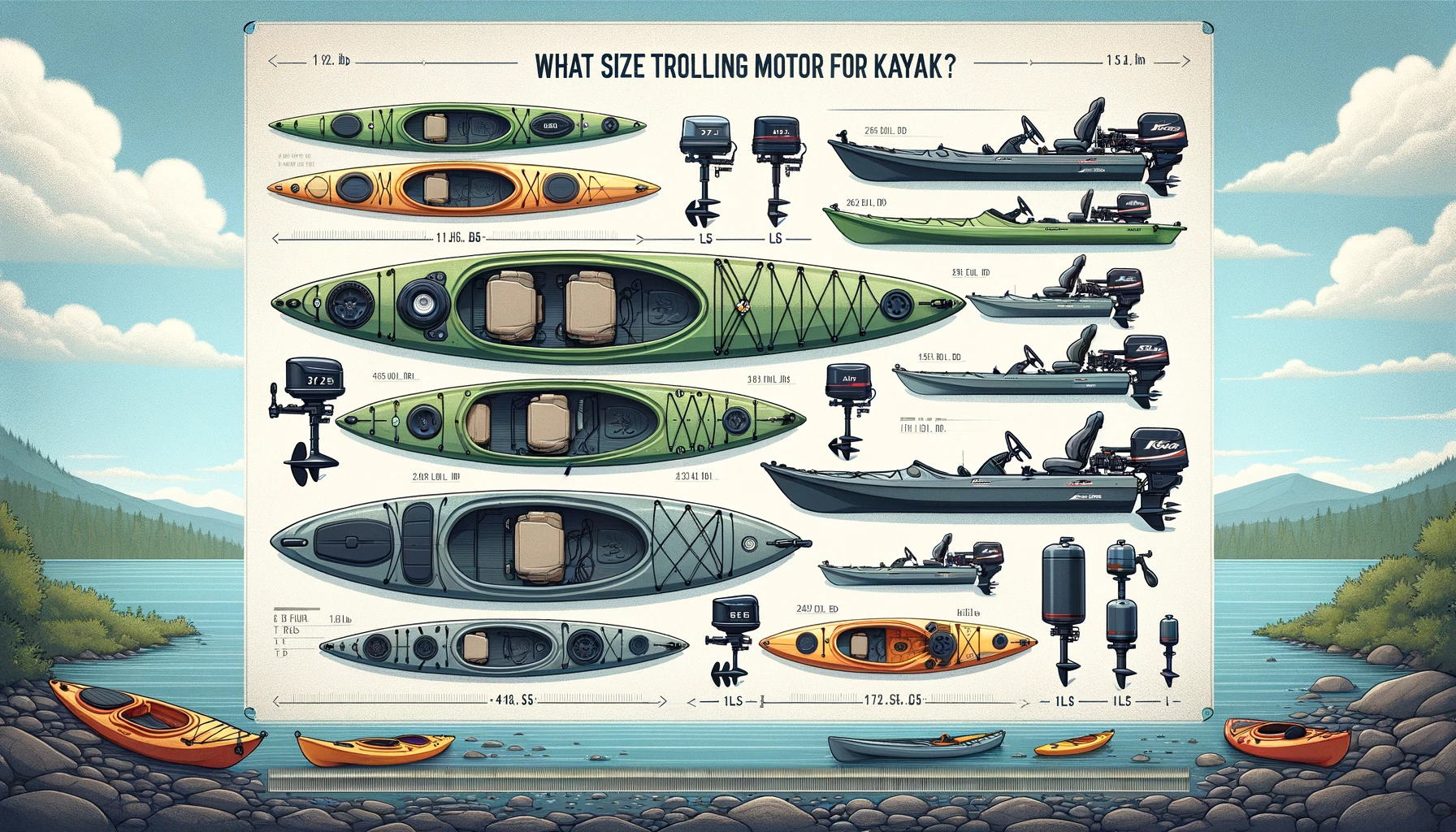 Ease of Use
You'll want to pick a motor that's easy for you to operate. This means looking at the control mechanism and deciding what you're comfortable with. Do you prefer foot controls, hand controls, or perhaps a remote?
Portability
Lastly, consider the weight and size of the motor itself. Kayaks are generally used for their portability and ease of handling, so adding a heavy motor defeats the purpose. You want something that is lightweight but still durable.
Conclusion
Now you're equipped with the knowledge to choose the right size trolling motor for your kayak. Remember, the key is to balance the weight of the motor with the thrust power and battery life. By considering these factors, you'll ensure a smooth and enjoyable journey on the water.
Setting Sail with Confidence
Armed with this guide, selecting the perfect trolling motor size should be a breeze. Remember, it's about making your kayaking trips more enjoyable and less tiring. So, gear up and get ready to enhance your next water adventure with the ideal trolling motor for your kayak!
Happy kayaking!