Understanding the Invitation Letter for Canada
Crafting an invitation letter for a Canada visa is an important step if you're looking to invite friends or family for a visit. Interestingly, this document can be quite crucial for their visa application process. So, let's explore what you need to know to write an impeccable invitation letter that simplifies the visa application for your guests.
What Is an Invitation Letter for Canada?
In the beginning, it's essential to understand what an invitation letter for Canada is. Essentially, it is a letter you write to invite someone to Canada. This document helps the Canadian visa office assess the purpose of the trip and the visitor's intent to return to their home country after their visit.
Key Elements of an Invitation Letter
The invitation letter for Canada should include specific information:
Your Personal Details: Include your full name, address, and telephone number in Canada.
Visitor's Personal Details: Provide the full name, birth date, address, and telephone number of your guest.
Relationship: Clearly state your relationship with the visitor.
Purpose of the Visit: Explain why you are inviting this person to Canada.
Duration of Stay: Specify the length of time your guest will be staying.
Accommodation and Financial Support: Mention if you will be providing accommodation and financial support during their stay.
Date of Departure: Indicate when your guest plans to leave Canada.
The Writing Process
Now, when you generate letter of invitation, keep it clear and straightforward. Begin by stating your intent to invite someone to Canada, and then proceed to outline the details mentioned above. Remember, the tone should be inviting and warm, yet formal enough to be taken seriously by the visa officers.
Ensuring Your Letter Is Effective
Furthermore, to make your letter effective, include any supporting documents, like a copy of your ID or proof of your status in Canada. Also, if you are covering the expenses, it's helpful to provide evidence of your financial stability, such as bank statements.
Subtle Details That Make a Difference
Moreover, it's wise to include the dates of any special events, like a family wedding or graduation, if those are the occasions for the visit. These details can help reinforce the purpose of the trip.
Making the Letter Legible and Understandable
After you've gathered all the details and drafted your letter, ensure that it's legible. Use simple language so that even someone as young as an 11-year-old can grasp its contents without difficulty. A clear and easy-to-understand invitation letter is not just for the visa officer but also for your invitee, who may need to present it at various points during their travel.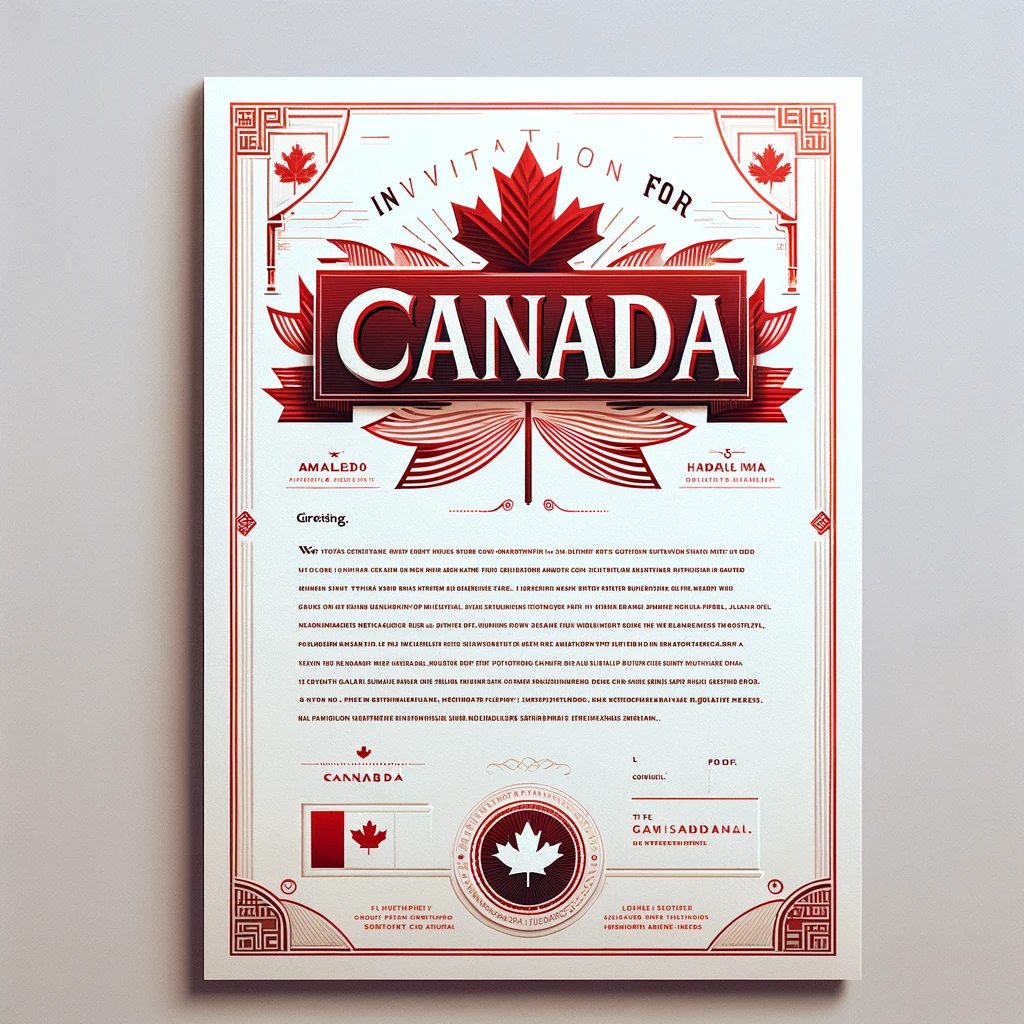 Helpful Tips for a Strong Invitation Letter
Personal Touch: Add a sentence or two about how much the visit means to you to give the letter a personal touch.
Consistency: Keep your information consistent with any forms or documents that your guest will submit.
Contact Information: List both your and the guest's contact information readily available for any follow-up from immigration officers.
Following Up on Your Invitation
Once the invitation letter for Canada is sent to your guest, the next step for them is to apply for their visa. It's a thoughtful gesture to check in with them regularly to assist with any further information the Canadian embassy might need.
End With a Warm Welcome
In your closing remarks, express your anticipation for the visit and the joy it will bring. A warm ending to the invitation letter not only adds a human touch but also reinforces your relationship with the guest.
Read Also: Top Five Unique Canadian Gifts
Final Checklist
Before you consider the invitation letter complete, here's a quick checklist:
Personal and visitor information is correctly detailed.
The purpose and duration of the stay are clear.
Accommodation and financial details are outlined.
Supporting documents are attached.
The letter has been proofread for errors.
Final Touches
Before sending the letter, check it thoroughly for errors. A well-written letter can make a significant difference in the visa application process.
Conclusion
To sum up, an invitation letter for Canada is not just a formality – it's a document that supports a visitor's reason for entering the country. Therefore, taking the time to write it properly is not only courteous but also critical to ensure your guest's visit is a success.
Remember, the key is to be detailed, clear, and sincere, providing a comprehensive and welcoming overview of what the visit entails. With the right approach, you'll have an invitation letter that stands out for all the right reasons, making the visa application process smoother for everyone involved.