Have you ever wondered how to make money with e-farming? This innovative approach to agriculture combines technology and farming to produce more with less. E-farming, or electronic farming, is not a futuristic concept—it's here now, and it's reshaping how we grow our food. Moreover, it offers an exciting opportunity for entrepreneurs and farmers to earn income in new ways. So, let's dig into the world of digital agriculture and explore how you can get your slice of the pie.
Understanding E-Farming
Before we sow our virtual seeds, it's important to understand what e-farming actually is. Simply put, e-farming uses information technology to manage farms efficiently. This can involve various tools, from drones that monitor crop health to apps that manage farm resources. Now, how does this help you make money? By increasing efficiency and crop yield while reducing waste and costs.
Step 1: Research Your Options
To start with e-farming, first, you need to know your options. Are you interested in precision farming, hydroponics, or perhaps aquaponics? Each method has its own set of benefits. For example, precision farming can help you use water and fertilizers more effectively. Similarly, hydroponics—the art of growing plants without soil—can save space and water, making it perfect for urban farmers.
Step 2: Get the Right Technology
After deciding on your method, you'll need the right technology. This might be software to track your farming activities or hardware like sensors to monitor soil moisture. The great thing is, there are lots of resources online where you can find what you need to get started. Just remember, the initial investment in technology can be high, but it pays off with increased productivity and profits.
Step 3: Connect with E-Farming Communities
Don't go at it alone. Connect with online e-farming communities to learn from others. These communities are goldmines of information and can offer advice on everything from the best equipment to effective farming techniques.
Step 4: Market Your Products
Once your farm is up and running, it's time to sell your produce. Social media and online marketplaces are excellent platforms to market your products. Furthermore, they allow you to reach a wider audience without the costs associated with traditional retail channels.
Step 5: Monitor and Optimize Your Farm
Once your e-farm is operational, the work isn't over—it's just beginning. Monitoring your farm's performance is crucial. Use apps and sensors to track plant growth and health. If you notice something's off, adjust your methods. Perhaps you'll need to tweak your irrigation schedule or change the nutrients you're providing your hydroponically grown plants. Always be on the lookout for ways to optimize.
Step 6: Scale Your Operations
When you start making a profit, consider scaling your operations. Could you expand your range of crops, or increase the size of your e-farm? Maybe there's an opportunity to automate more processes. Scaling up can mean greater profits, but it's important to do this wisely to maintain the balance between cost and revenue.
Step 7: Diversify Your E-Farming Income
Diversification is a key strategy in any business, and e-farming is no exception. Think about related products or services you could offer. Could you sell e-farming equipment or software? What about offering consultancy services to other aspiring e-farmers? Diversification helps you build a resilient business that can withstand the ups and downs of the market.
Read Also: Simple Ways to Make Money Easily from Cryptocurrency
Making E-Farming Profitable
To make e-farming profitable, you must be willing to adapt. Keep an eye on market trends and be ready to change your strategy if needed. For instance, organic produce is in high demand now, so consider going organic if you haven't already.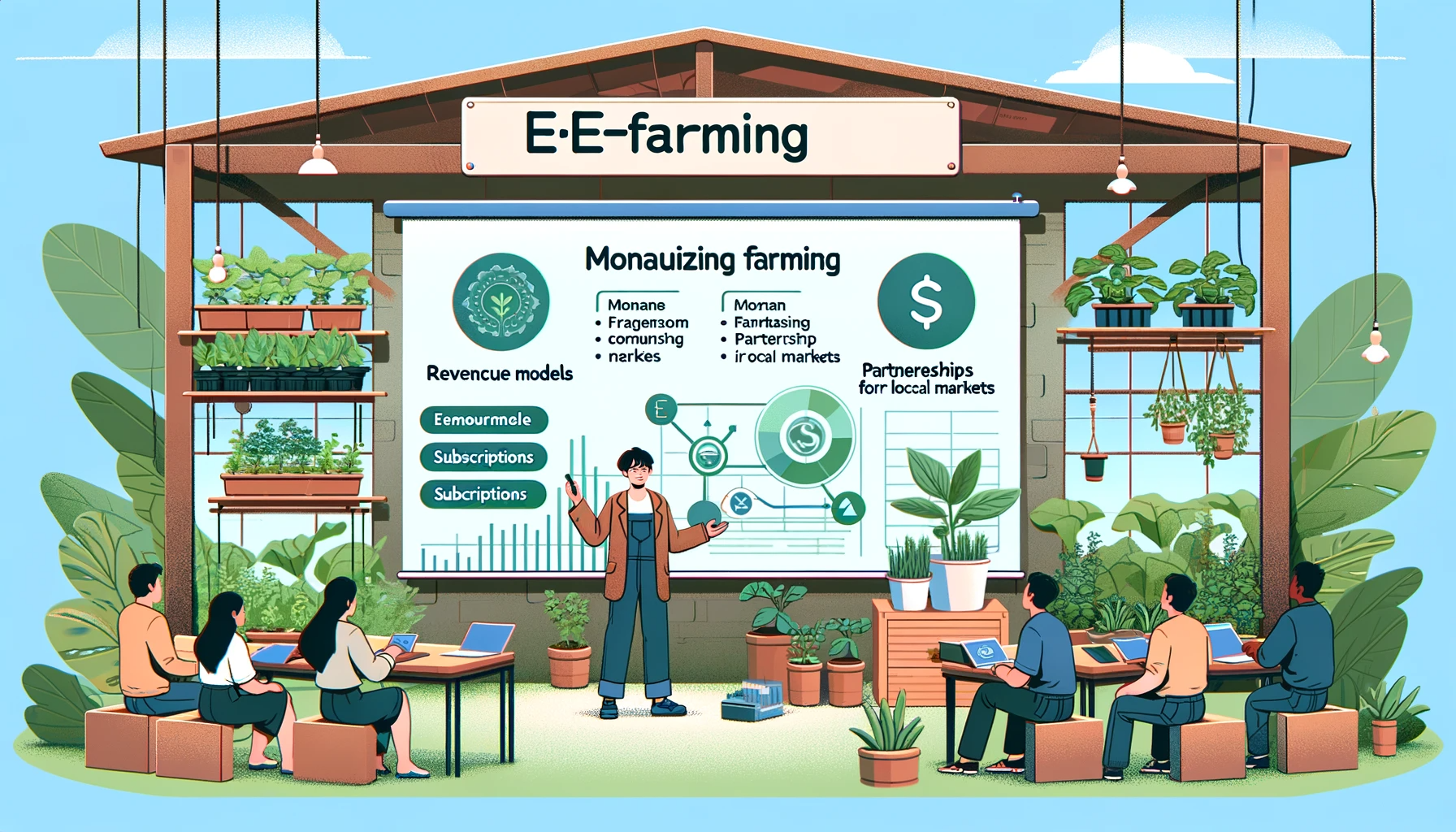 The Role of Data in E-Farming
Data is like the water and sunlight for e-farming—it helps everything grow. By analyzing data, you can make informed decisions that increase your farm's efficiency and output. And remember, in e-farming, information is as valuable as the crops you're growing.
Embracing the Digital Green Thumb
Making money with e-farming doesn't only revolve around growing crops. You can also branch out into teaching others by creating online courses or tutorials about your e-farming techniques. This knowledge-sharing not only positions you as an expert in the field but can also become a stream of passive income.
The Benefits of E-Farming
Besides the potential to make money, e-farming has other benefits. It's often more sustainable than traditional farming, using fewer natural resources. Plus, by keeping data on your farming practices, you can contribute to global research on sustainable agriculture.
The Future Is Here
The future of farming is high-tech, and it's full of opportunities for those willing to get their hands digitally dirty. With global populations rising and the demand for food growing, e-farming is not just a lucrative career path, it's also a step towards a more sustainable world.
Final Thoughts
So, to all the young entrepreneurs and farmers out there, remember that learning how to make money with e-farming is a process. It requires patience, investment, and a willingness to embrace new technologies. But with every step forward, you're paving the way for a greener, more efficient, and profitable farming future. Start small, think big, and grow beyond the traditional fields to the boundless digital horizon.
With these steps and tips, you're now equipped with the basic knowledge on how to make money with e-farming. Remember to keep learning, stay adaptable, and enjoy the journey of merging technology with the timeless tradition of farming.